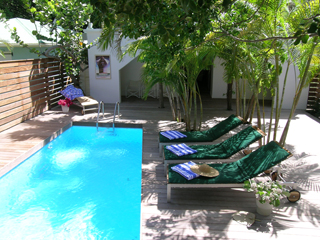 One of the island's oldest hotels is reborn as a charming stylish inn
Hotel Normadie is located 100 yards from Lorient Beach. Small intimate hotel for the budget minded traveler. All new, recently refurbish to the minimalistic design. Call us for more detail, its really a really nice hotel.
The Normandie is a two minute walk from St. Barths' beautiful Lorient beach, one of the most popular surfing venues and a beach widely used by families of the island. Centrally located to dining, distinctive island shopping, and water sports, the Normandie offers conviviality and relaxation.
The Hotel's bedrooms and bar / salon area have been totally renovated. The guest rooms are in two buildings, which are connected by a new deck of exotic Brazilian wood surrounding the Hotel pool, set in a tropical garden environment.
Amenities at the Normandie, which offers a glimpse of life aboard France's great luxury ocean liner, the S S Normandie, include WiFi, flat screen plasma TVs (with French and US channels), telephones, air conditioning, refrigerators, and elegantly styled ensuite bathrooms. Rates include Continental breakfast and complimentary wine in the afternoon.
More photos of this hotel
Have questions, need assistance or want to check availability dates?
We're a phone call away.Call Us toll free at (888) 839-0550