St Barts / St Barth Private Villas & Hotel Rentals
We Make Every Minute Count

The #2 sport on St. Barts! (If you're asking... Dining is #1)

Where did you shop today?
What did you buy?
How fabulous was the deal?
Did you have it shipped?
How much did it cost?

Here are some of my favorite stores in St Barts.
Worth a look- see, browse, They ship, I shop !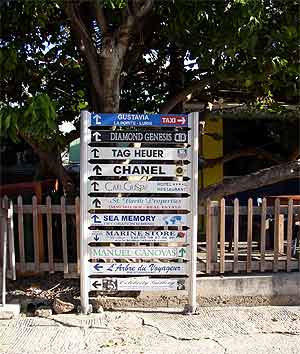 " 4 Shells Awards"


Diamond Genesis
Gustavia

"The" place to shop for limited edition designs by Dominique. Breitling, TAG, Patek Phillipe watches & 18K gold are my favorites at this long established store on the main street in Gustavia.

Laurent Effel
Gustavia

Fabulous custom made for Effel; Men & Women's shoes, bags, belts, linen shirts, shorts, dresses, & much more. Fun colors. Anna & Erick & a wonderful staff welcome you. Locationed in Gustavia.

Ligne St Barth

The most amazing sun products. I have never burned or peeled. Feature Racou Oil is made on the island & sold in better stores. Mint after shave & vanilla body cream - yummy.

Pati St Barth
Gustavia,

The original St Barths "gotta have design". T shirts, hats, towels, bags. 2 stores in Gustavia, 1 in St Jean.
Shelley Shusteroff
Islanders Travel & Tours
(212) 228-7100
(outside of New York) (888) 839-0550
© All rights reserved. New Islanders Travel Inc. 2023
Villas || Hotels || Beaches || Shopping || Island Info || Postcard Specials || E-mail || Home
Website Developed and Maintained by studioshots.com™
French Caribbean / Villas / Villa Rental / Hotels / St. Barts Villas / St. Barthelemy Villa Rental / Real Estate / St. Barth Villas / St. Barths Villa Rental / Vacation Rentals / Carribean Villas / Saint Barthelemy / Saint Barts / St. Barts / St. Barth / St. Barths / Caribbean Villa Rentals
Villa Site Map